Our Name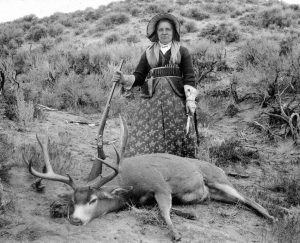 The Augusta Wallihan Chapter, NSDAR, is named after an early pioneer woman of the region who was one of the first to be nationally supported for her principles and ideas on responsible wildlife management. Augusta and her husband A.G. homesteaded in Lay, Colorado, beginning in the early 1880s. He laid out the town and served as postmaster for many years. Augusta kept a roadhouse for travelers on the "government road" that ran between Rawlins and Fort Meeker. Augusta turned into a great huntress and was the driving force for A.G.'s rise to international fame as one of the first wildlife photographers. Augusta promoted the idea of responsible wildlife management. Her articles in sports magazines and her fame as an expert sharpshooter generated an invitation to the New York's Madison Square Garden Sportsman's Expo in 1895 to host the Hunters' Cabin. Augusta and A.G. earned awards for their wildlife photography at the 1900 Paris World Exposition and the St. Louis World's Fair in 1904. Despite traveling the world, they always came home to Lay and are buried on a hill overlooking the mountains they loved.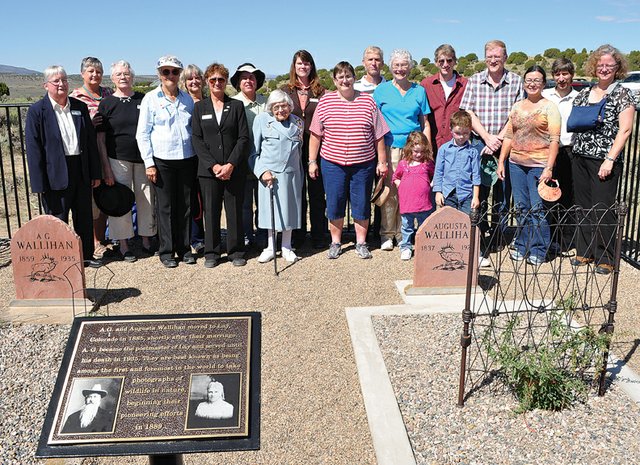 Our History
The Augusta Wallihan Chapter was organized June 6, 2009, in Craig, Colorado. Membership includes ladies from Craig, Steamboat Springs, Meeker, Rangley, and more. The chapter's first project was to fence, mark, and dedicate the graves of A.G. and Augusta Wallihan. In October 2010, the chapter purchased the Lay School which is now listed on the National Register of Historic Places and the Colorado Historic Site Registry.
The chapter participates with the VFW to honor veterans, Memorial Day, 4th of July, and Veterans Day. The Augusta Wallihan Chapter continues to commemorate the 50-year anniversary of the Vietnam War and honor those veterans.
Many of the chapter members present programs throughout the year in the local schools and the Boys and Girls Clubs. Programs have included Liberty Day, Constitution Week, Flag Day, Women's Month, Colonial Life, Presidents, and more.
The chapter is committed to promoting historic preservation, education, and patriotism.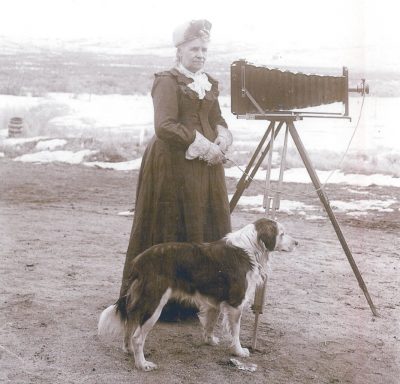 Our Committees
Our committees are the base of our chapter's involvement in our community, giving our members opportunities to serve DAR objectives that are most valuable to each person.
America 250!
American Heritage
American History
American Indians
Americanism
Chapter Achievement Awards
Children of the American Revolution
Commemorative Events
Community Service Awards
Conservation
Constitution Week
DAR Genealogy Preservation
DAR Good Citizens
DAR Magazine
DAR Museum Outreach
DAR Project Patriot
DAR Scholarship
DAR School
DAR Service for Veterans
Educational Resources
Genealogical Records
Historic Preservation
Insignia
Junior American Citizens
Junior Membership
Lineage Research
Literacy Promotion
Membership
National Defense
Patriot Records Project
President General's Project
Public Relations and Media
Service to America
Special Projects Grants
State Founders Medal Awards
State Regent's Project
State Scholarship
The Flag of the U.S.A.
Units Overseas
Volunteer Genealogists
Volunteer Information Specialists
Women's Issues