Our Name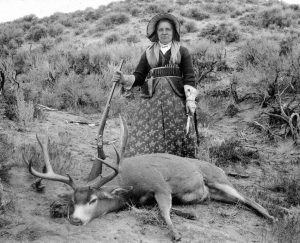 The Augusta Wallihan Chapter NSDAR is named after an early pioneer woman of the region who was one of the first to be nationally supported for her principles and ideas on responsible wildlife management. Augusta and her husband, A.G., homesteaded in Lay, Colorado, beginning in the early 1880s. He laid out the town and served as postmaster for many years. Augusta kept a roadhouse for travelers on the "government road" that ran between Rawlins and Fort Meeker. Augusta turned into a great huntress and was the driving force for A.G.'s rise to international fame as one of the first wildlife photographers. Augusta promoted the idea of responsible wildlife management. Her articles in sports magazines and her fame as an expert sharpshooter generated an invitation to the New York's Madison Square Garden Sportsman's Expo in 1895 to host the Hunters' Cabin. Augusta and A.G. earned awards for their wildlife photography at the 1900 Paris World Exposition and the St. Louis World's Fair in 1904. Despite traveling the world, they always came home to Lay and are buried on a hill overlooking the mountains that they loved.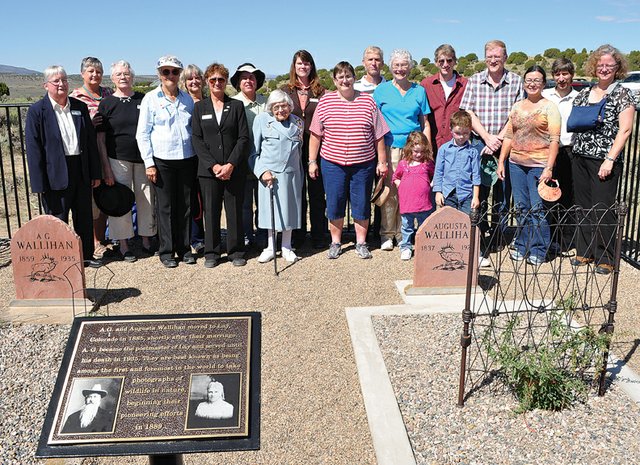 Our History
The Augusta Wallihan Chapter NSDAR was organized June 6, 2009, in Craig, Colorado. Membership includes ladies from Craig, Steamboat Springs, Meeker, Rangley, and more. The chapter's first project was to fence, mark, and dedicate the graves of A. G. and Augusta Wallihan. In October 2010, the chapter purchased the Lay School which is now listed on the National Register of Historic Places and the Colorado Historic Site Registry.
The chapter participates with the VFW to honor veterans, Memorial Day, 4th of July, and Veterans Day. The Augusta Wallihan Chapter NSDAR continues to commemorate the 50 year anniversary of the Vietnam War and honor those veterans.
Many of the chapter members present programs throughout the year in the local schools and the Boys and Girls Clubs. Examples of programs included Liberty Day, Constitution Week, Flag Day, Women's Month, Colonial Life, Presidents, and more.
The chapter is committed to promoting historic preservation, education, and patriotism.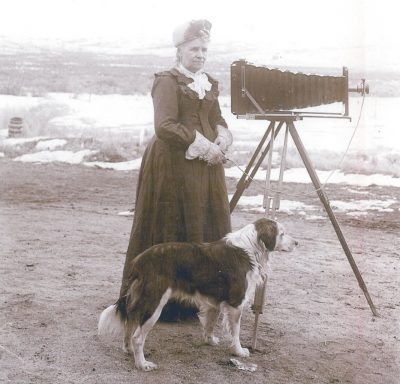 Chapter Officers
Our board members, led by the chapter regent, work in concert with chapter membership and committees, including: other Colorado chapters, the Colorado State Society DAR, and the NSDAR. These women serve an elected position for a two-year term.
| | |
| --- | --- |
| Regent | Ann Dodd |
| Vice Regent | Arloa Gerber |
| Recording Secretary & Corresponding Secretary | Paula Kinkaid |
| Treasurer | Dorcas Albaugh |
| Registrar | LuAnn Kline |
| Historian | Susanne Neher |
Our Committees
Our committees are the base of our chapter's involvement in our community; giving our members opportunities to serve DAR objectives that are most valuable to each person.
America 250!
American Heritage
American History
American Indians
Americanism
Chapter Achievement Awards
Children of the American Revolution
Commemorative Events
Community Service Awards
Conservation
Constitution Week
DAR Genealogy Preservation
DAR Good Citizens
DAR Magazine
DAR Museum Outreach
DAR Project Patriot
DAR Scholarship
DAR School
DAR Service for Veterans
Educational Resources
Genealogical Records
Historic Preservation
Insignia
Junior American Citizens
Junior Membership
Lineage Research
Literacy Promotion
Membership
National Defense
Patriot Records Project
President General's Project
Public Relations and Media
Service to America
Special Projects Grants
State Founders Medal Awards
State Regent's Project
State Scholarship
The Flag of the U.S.A.
Units Overseas
Volunteer Genealogists
Volunteer Information Specialists
Women's Issues
Our Patriot Ancestors
Listed on this page are the patriot ancestors of the current members of Augusta Wallihan Chapter NSDAR. Revolutionary War patriots include signers of the Declaration of Independence, members of local and state militias, members of the Continental Army or Continental Navy, men and women who rendered other types of aid to the cause of independence, and those taking oaths of loyalty. Other included patriots are foreign soldiers who served the cause of American independence and Spanish soldiers serving in the presidios at Santa Fe, El Paso, and New Orleans. With a few exceptions, military service began with the Battle of Lexington (19 April 1775) and ended when the British evacuated New York (26 November 1783). Patriots may have also provided civil service, conducting public business in the newly formed American states.
If you have information that one of your ancestors may have aided the cause of freedom during the American Revolution, we may be able to help you establish your genealogical line for DAR membership. If you are interested in documenting your lineage and joining our chapter, or have any questions, please visit our Membership page or send us a message using our Contact Us page.
Name
Location of Service
Service Description
Richard Bailey
New Hampshire
Private
Cornelius Barhydt
New York
Private
Benjamin Cave
Virginia
Private
John Chastain
Virginia
Patriotic Service
Issac Clute
New York
Private
Caleb Conant
Connecticut
Private
John Davis
Virginia
Private
Gilbert Drew
New York
Sergeant
Phillip Green
Rhode Island
Civil Service
Simon Hirons
South Carolina
Patriotic Service
Parker Jaques
Massachusetts
Corporal
George Layport
Maryland
Private, Patriotic Service
Alexander McLean
Pennsylvania
Colonel, Civil Service, Patriotic Service
William Neal
North Carolina
Captain
Daniel Nichols
New Hampshire
Corporal, Civil Service
Abraham Sell
Pennsylvania
Captain
Peter Van Doren
New Jersey
Private
Thomas Wells, 3rd.
Rhode Island
Captain
Joachim Wikoff
New Jersey
Private
as of February 15, 2019