A.G. and Augusta Wallihan Marker
The graves of A.G. and Augusta Wallihan, who were wildlife photographers and homesteaders in northwest Colorado, are located on land owned by Moffat County. The site is completely surrounded by private property. In 2010, a renovation project was done. The sagebrush and weeds were removed and a wrought iron fence was added, along with landscaping and headstones. A brass plaque that included photos of the couple and a brief description of their work was placed on the east end of the site. The site was dedicated on August 10, 2010.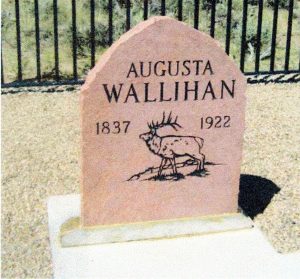 The inscription on the marker reads: "A.G. and Augusta Wallihan moved to Lay, Colorado, shortly after their marriage. A.G. became the postmaster of Lay and served until his death in 1935. They are best known as being among the first and foremost in the world to take photographs of wildlife in nature, beginning their pioneering efforts in 1889."
Marked by the Augusta Wallihan Chapter, Daughters of the American Revolution August 2010.
History
A.G. Wallihan came to the Brown's Park area of northwest Colorado in 1882. He moved to Lay, Colorado, in 1884, and took up a homestead there. He also became the postmaster. Born in Massachusetts into a family with American Revolutionary War ties on both sides, Augusta came to northwest Colorado in 1884. They married in 1885, and the couple spent the rest of their lives in Lay. Augusta could hunt a deer for food, tan the hide, and make beautifully beaded gloves. She always rode sidesaddle and wore dresses suitable for town – girded by her ever-present cartridge belt. With his wife's help, A.G. soon became one of the foremost pioneers of nature photography. Augusta traded a pair of her handmade gloves to a traveling missionary for their first camera. They became outspoken wildlife conservationists during a time when game populations were thought to be limitless. Their articles regularly appeared in national magazines, and his photographs won awards at the St. Louis World's Fair and the Paris Exposition.
References
1. Stieghorst, Junann J. Colorado Historical Markers of the Colorado State Society, National Daughters of the American Revolution. Littleton, Colo: Littleton Independent, 1978 <https://archive.org/details/coloradohistoric00stie>.
2. McLaughlin, Hildegarde H., and F. B. McLaughlin. A Guidebook to DAR Historic Markers in Colorado: Where They Are, What They Look Like, How to Find Them. [Place of publication not identified]: [Colorado State Society of the NSDAR], 1991.
3. Ruth, Christine Etherton. Travelling Through the History of Colorado: Colorado State Society, NSDAR Historical Markers.